Tag: Goa
Parrikar Appointed As New Goa Chief Minister
Goa Governor Mridula Sinha on Sunday appointed Defence Minister Manohar Parrikar as the new Chief Minister of Goa.....
SC Directs Floor Test In Goa Assembly On Thursday
The Supreme Court on Tuesday directed a floor test in the Goa Assembly on Thursday as it refused to interfere with the Goa Governor's decision to appoint Manohar Parrikar as Chief Minister.....
Congress Cries Foul Over Lost Opportunity To Rule Goa, Manipur
While the Congress is accusing the BJP of "subverting democracy" and "nullifying people's mandate" by staking claim to form new governments in Manipur and Goa before it could do so as the single-largest party, many, within and outside the Congress, are questioning its own failure to seize the opportunity.....
Parrikar's BJP-led Coalition To Face Floor Test Thursday Evening
The BJP-led coalition of Chief Minister Manohar Parrikar will face a floor test during the one-day session of the Goa assembly on Thursday evening.....
Parrikar Wins Trust Vote In Goa, Rane Quits Congress
Goa Chief Minister Manohar Parrikar on Thursday won the trust vote in the assembly, with 22 MLAs backing his government and the Congress getting the support of 16 legislators.....
Dismiss Goa Governor, Demands Congress
The Congress on Friday said Goa Governor Mridula Sinha has "admitted" that she consulted Finance Minister Arun Jaitley during government formation in the state and demanded her dismissal by President Pranab Mukherjee.....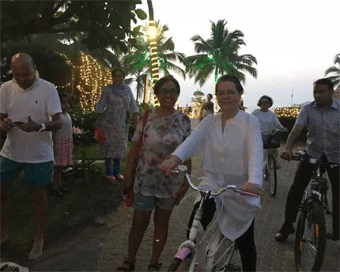 Rahul Joins Sonia In Goa For New Year Celebrations
Congress President Rahul Gandhi arrived in Goa to join his mother Sonia Gandhi to usher in the New Year, a party official said on Sunday.....
Residents Evacuated After Tanker Carrying Ammonia Gas Turns Turtle In Goa
Dozens of residents of Chicalim village in Goa, near the Dabolim International Airport, were evacuated from their homes by disaster response officials, after a tanker carrying ammonia gas met with an accident and turned turtle, causing gas leakage.....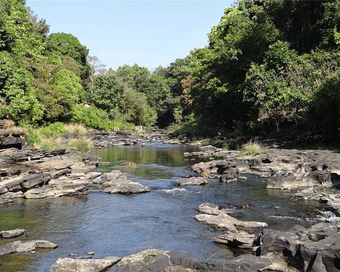 Shutdown Call In Karnataka For Mahadayi Water On Thursday
A call for 12-hour shutdown on Thursday in Karnataka has been given by several Kannada organisations and regional outfits for the Mahadayi river water from the neighbouring Goa state in the northwest.....
President Asks Rich To Give Up For Those With Greater Need
President Ram Nath Kovind on Thursday asked the rich to renew India's age-old culture of philanthropy by voluntarily giving up their entitlements for those with greater need.....