Tag: Goa
Modi Congratulates Parrikar On Becoming Goa CM
Prime Minister Narendra Modi on Tuesday congratulated Manohar Parrikar who became the Chief Minister of Goa for the fourth time. ....
Manohar Parrikar Takes Over As Goa CM For Fourth Time
BJP leader Manohar Parrikar was sworn in Chief Minister of Goa for the fourth time on Tuesday.....
Opposition Meets EC, Demands Budget After State Polls
Several opposition parties on Thursday approached the Election Commission seeking the Union Budget be deferred after March 8, until the assembly polls got over in five states.....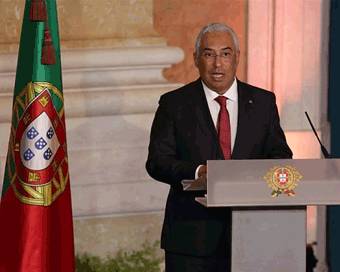 Portuguese PM To Skip Beaches, Packed Schedule In Goa
When Portuguese Prime Minister Antonio Costa arrives in the land of his origin on Tuesday night, a stroll on Goa's popular beaches certainly does not appear to be at the top of his agenda.....
Portuguese PM Arrives In Goa
Portuguese Prime Minister Antonio Costa landed in Goa, late on Tuesday, on a three-day official visit to the coastal state.....
BJP Releases List Of 29 Candidates For Goa Assembly Polls
The BJP on Thursday released its first list of 29 candidates for the Goa assembly elections scheduled to be held on February 4.....
Goa CM Regrets Not Acting Tough Against Corrupt, Criminals
In a first admission about the BJP-led coalition government's inability to crack down on corruption, Goa Chief Minister Laxmikant Parsekar admitted that he did not take "personal interest" in acting against corruption and criminals in the state.....
Election Commission Promoting Bribery: Kejriwal
Delhi Chief Minister Arvind Kejriwal on Monday accused the Election Commission of promoting bribery by banning him from telling people to take money from other parties but vote for the AAP.....
Probe Ordered Into Goa's Attempted Jailbreak
A probe was ordered on Wednesday into the foiled jailbreak bid at South Goa's Sada sub-jail late on Tuesday, in which one inmate died, a senior officer said.....
The Great Circus Of Election Begins
Some are playing musical chairs, some are behaving like jumping jacks and a few are ending up as jokers as well in this circus of great election-entertainments.....