Tag: General Secretary
BJP Leader Slams Shah Rukh Khan
BJP General Secretary Kailash Vijayvargiya on Tuesday slammed Bollywood superstar Shah Rukh Khan, even comparing him to underworld don Dawood Ibrahim, after the death of a person at the Vadodara railway station during the promotional tour of the actor's movie "Raees".....
Sasikala Set To Be Tamil Nadu's Third Woman CM
AIADMK legislators on Sunday elected General Secretary V.K. Sasikala as leader of their legislature party, paving the way for her to become Tamil Nadu's third woman Chief Minister.....
Sasikala Set To Be Tamil Nadu CM, DMK Shocked
Tamil Nadu is set to get its third woman Chief Minister. AIADMK MLAs on Sunday elected General Secretary V.K. Sasikala as their legislature leader, two months after her mentor J. Jayalalithaa died.....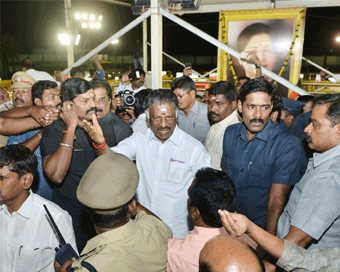 Panneerselvam Revolted Only After Losing CM Post: AIADMK
The revolt by Tamil Nadu former Chief Minister O. Panneerselvam against AIADMK General Secretary V.K. Sasikala is being opportunistic and fuelled by other forces, said a spokesperson of the ruling party on Wednesday.....
EC Seeks Clarification From AIADMK On Sasikala
The Election Commission of India has sought "response" from the AIADMK after Sasikala Pushpa, a sacked party member, questioned V.K. Sasikala's elevation as head of the ruling Tamil Nadu party and sought its intervention, poll panel officials said on Wednesday.....
Personal Insults Only PM's Response, Government Most Bereham: Yechury
Hitting out at Prime Minister Narendra Modi for his remarks on former PM Manmohan Singh, CPI(M) General Secretary Sitaram Yechury on Wednesday said Modi had no answers to opposition's questions and "personal insults to senior leaders" was his only response to serious issues.....
Yechury Denounces Modi's 'fascistic Demagoguery'
Prime Minister Narendra Modi has destroyed the accountability to Parliament by refusing to answer members, CPI-M General Secretary Sitaram Yechury said on Thursday.....
Nine AIADMK Lok Sabha Members Back Panneerselvam
The number of Lok Sabha members of the AIADMK supporting Tamil Nadu's acting Chief Minister O. Panneerselvam on Sunday swelled to nine.....
Tamil Nadu CM Palaniswami Wins Confidence Vote
Tamil Nadu Chief Minister Edappadi K. Palaniswami on Saturday won the vote of confidence in the state assembly. ....
In UP, Political Discourse Gets Distasteful
"Gujarat ke gadhe" (donkeys of Gujarat), "Loktantra ke aatankwaadi" (terrorists of democracy), "Behenji Sampatti Party", "Negative Dalit Man"... Political discourse amid ongoing assembly elections in Uttar Pradesh has touched a new low. ....