Tag: Gangasagar
Over 1.5 Million Take Holy Dip At Gangasagar Amid Chill, Security
Ove 1.5 million pilgrims from across India and abroad braved the icy cold water and chilly winds to took a holy dip in the river Ganga on Saturday at the annual Gangasagar Fair here on Makar Sankranti. ....
Six Women Pilgrims Die In Mad Rush To Board Launch At Gangasagar
Six pilgrims, all women, suffocated to death during a mad rush to board a vessel from the crowded jetty on their way home from Gangasagar fair in West Bengal on Sunday after taking the holy dip, a state minister said.....
Lakhs Take Holy Dip In Ganga On Makar Sankranti
Over half a million pilgrims on Sunday took a holy dip in the Ganga at the spot where it flows out into the Bay of Bengal, on the occasion of Makar Sankranti.....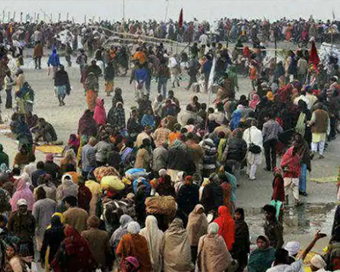 Gangasagar Mela Starts Today, Lakhs Of Pilgrims Head To Bengal As HC Gives Nod
The Gangasagar Mela, which occurs at West Bengal's Gangasagar (also known as Sagar) Island during Makar Sankranti every year, starts today and will continue till January 16.....
Railways To Launch Train For Religious Tourism
The railways will launch a train for religious tourists on February 17 that will originate in Guwahati and cover shrines in West Bengal and Odisha, it was announced on Wednesday. ....
Showing 1 to 5 of 5 (1 Pages)