Tag: Emmanuel Macron
Putin, Macron Call For Implementing Iran N-deal
Russian President Vladimir Putin and French President Emmanuel Macron have agreed that efforts should be made to preserve and strictly implement the Iran nuclear deal, the Kremlin said.....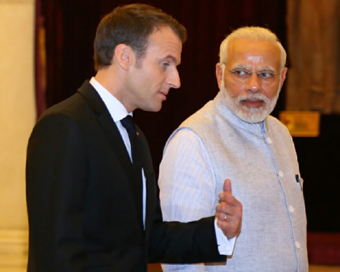 Modi And French President To Meet
Prime Minister Narendra Modi will have a meeting with French President Emmanuel Macron on the sidelines of G-20 Summit in Osaka in Japan later this week, diplomatic sources said here on Tuesday.....
Emmanuel Macron Wins French Presidency
Centrist candidate Emmanuel Macron was declared victor after he won 20.7 million votes, firmly beating Marine Le Pen, who took about 10.6 million in the French Presidential elections' crucial runoff on Sunday.....
Modi Breaks Protocol, Receives French President At Airport
Breaking protocol, Prime Minister Narendra Modi received French President Emmanuel Macron at the airport when he arrived here on Friday on a four-day visit to India, during the course of which the two leaders will co-chair the founding conference of the International Solar Alliance (ISA).....
France Best Partner For India: Macron
French President Emmanuel Macron on Saturday said that France should be the best partner for India and the entry point to Europe.....
Rahul Discusses Fake News, Climate Change With Macron
Congress President Rahul Gandhi met French President Emmanuel Macron on Sunday and said they discussed issues common to both democracies including fake news and looked forward to collaborating with him on climate change.....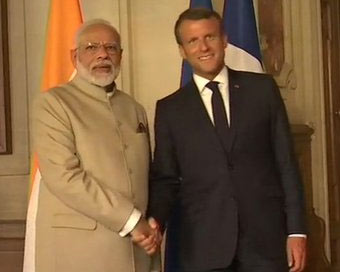 Modi In France: Macron Speaks Against 'third Party' Interference In Kashmir
French President Emmanuel Macron on Thursday said that India and Pakistan should resolve the Kashmir issue bilaterally and that no third party should interfere or incite violence there, after Prime Minister Narendra Modi explained to him about the changes brought about in Kashmir and that it is part of India's sovereignty.....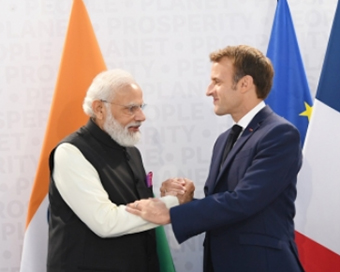 PM Narendra Modi Holds Bilateral Meet With French President Emmanuel Macron
Wide-ranging India-France Strategic Partnership and climate finance were among the issues Prime Minister Narendra Modi discussed during a bilateral meeting with President of France, Emmanuel Macron at Rome, Italy, on Saturday. ....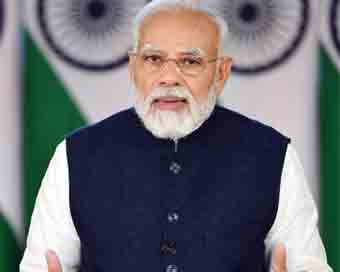 PM Modi To Attend 2nd India-Nordic Summit, Meet French President Emmanuel Macron
Prime Minister Narendra Modi on Wednesday will participate in the second India -Nordic Summit with the Prime Ministers of Denmark, Iceland, Finland, Sweden and Norway. ....
France Votes To Elect A New President
Voting was underway in France on Sunday for the first round of presidential election amid tight security following a terror attack in Paris earlier this week.....