Tag: Deepika Padukone
Shooting Of 'Padmavati' Hit
Activists of a Rajput organisation, Shree Rajput Karni Sena, protested and misbehaved with the crew of Sanjay Leela Bhansali's upcoming film "Padmavati" here on Friday, police and eyewitnesses said.....
SC Refuses Plea To Ban Release Of 'Padmavati'
The Supreme Court on Friday refused a plea seeking to ban the release of Sanjay Leela Bhansali's controversial "Padmavati" epic drama featuring Deepika Padukone as a Rajput queen.....
'Padmavati' Protest: Entry To Chittorgarh Fort Closed
Entry to the famous Chittorgarh Fort in Rajasthan was closed on Friday in protest against filmmaker Sanjay Leela Bhansali's upcoming movie "Padmavati", which many claim has distorted historical facts.....
Deepika Padukone In Time 100 Influential People Of 2018 List
New York. Deepika Padukone is the only Indian actress to feature in the Time 100 Influential People in the World, sharing space with names like Nicole Kidman, Gal Gadot, Greta Gerwig and Lena Waithe.....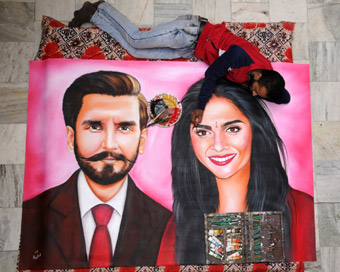 Ranveer Singh, Deepika Padukone Get Married In Italy
Bollywood stars Ranveer Singh and Deepika (23:14) Padukone on Wednesday tied the knot as per Konkani traditions in a dreamy Lake Como setting in Italy amidst a tight circle of family and friends, culminating a six year-long love story in a 'happily ever after'.....
Vin Diesel To Visit India, Confirms Deepika Padukone
Hollywood star Vin Diesel will visit India later this month to promote the forthcoming film "xXx: Return of Xander Cage". ....
'xXx: Return Of Xander Cage': Action-packed And Noisy
Film: "xXx: Return of Xander Cage"; Director: DJ Caruso; Cast: Vin Diesel, Deepika Padukone, Donnie Yen, Tony Jaa, Ruby Rose, Nina Dobrev, Kris Wu, Toni Collette, Nina Dobrev, Rory McCann and Samuel L Jackson; Rating: **1/2 This is the third film of the xXx franchise.....
Photo : Vin Diesel Welcomed In India With 'desi' Fanfare
Dhol, 'tutari' and 'tilak' made up for a rousing reception for Hollywood star Vin Diesel, who is here to promote his forthcoming release "xXx: Return of the Xander Cage".....
Honoured To Be In India For First Time : Vin Diesel
Hollywood actor Vin Diesel, who got a 'desi' welcome in India on Thursday morning, says he dreamt of exploring the country and is glad that his dream has finally come true.....
B-Town Praise Deepika's Hollywood Debut
B-Town celebs praise Deepika's 'confident' Hollywood debut....