Tag: Dalhousie
Tourists Flock To Himachal After Widespread Snow
Shimla, Manali and other parts of Himachal Pradesh are wrapped in a blanket of snow to the glee of tourists. There was more snowfall on Monday.....
Heavy Snowfall In Shimla, Manali
Shimla, Manali, Dalhousie still cut off, tourists stranded....
Himachal May Witness Heavy Snowfall From Tuesday
Moderate to heavy snowfall may hit Himachal Pradesh from Tuesday. Locals and tourists are advised not to venture to the state's higher reaches as transportation links may snap after snowfall.....
Cold Returns In Himachal After Snow, Rain
After days of pleasant weather, the cold returned to Himachal Pradesh on Sunday with the state's higher reaches witnessing a fresh spell of snow, while lower areas received moderate rain.....
Manali, Shimla's Nearby Areas Get Snow
Ahead of a long weekend bonanza on account of the Holi festival, tourist resort Manali and Shimla's nearby tourist spots in Himachal Pradesh on Wednesday got snow, giving them a picturesque look.....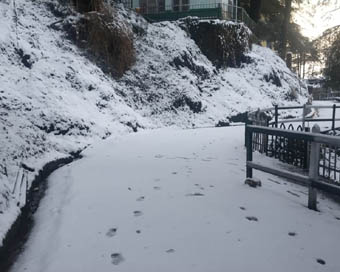 Shimla, Dalhousie Wraped In White Blanket
More snowfall in Shimla, Dalhousie and higher reaches of Himachal Pradesh on Saturday intensified the cold wave conditions in the state. ....
Showing 1 to 6 of 6 (1 Pages)