Tag: Congress
BJP, Congress Misleading People On House Tax: AAP
The AAP on Tuesday said the BJP and the Congress are misleading people on the abolition of house tax by saying that it cannot be done.....
BJP-led Goa Coalition Government Won't Last Full Term: Congress
The BJP-led coalition in the state will not last the full term, Leader of Opposition Chandrakant Kavlekar said on Thursday, adding that the Congress bloc of 16 legislators was intact and will work as an effective opposition.....
Visa Curbs On Indians Will Also Hurt US: Sushma
External Affairs Minister Sushma Swaraj on Thursday said if the US puts restrictions on H1B visas, immigration or business outsourcing, it will not just hurt Indians but will be bad for the US too.....
ED Attaches Properties Of Two Ex-CMs Of Goa
The Enforcement Directorate in Goa has attached the properties of former Chief Ministers Digambar Kamat and Churchill Alemao, who are accused in the Louis Berger bribery case, an official said on Thursday. ....
Parrikar Thanks Digvijay For Letting Him Become The Goa CM
Goa Chief Minister Manohar Parrikar on Friday thanked Congress leader Digvijay Singh for failing to cobble together a majority in the state despite the party winning the largest number of seats.....
Hope UP Government Will Waive Farmer Loans As Promised: Congress
The Congress on Tuesday hoped the BJP government in Uttar Pradesh will waive off loans of farmers to the tune of Rs 92,000 crore at its first cabinet meeting as part of its election promise.....
Rajasthan Denotifies 21 State Highways As Urban Roads
Rajasthan has denotified around 21 state highways as urban roads apparently in a bid to circumvent the Supreme Court order on liquor sale ban within 500 metres of highways.....
Congress Expels Tripura Ex-CM For Anti-party Activities
Veteran Congress leader and former Tripura Chief Minister Samir Ranjan Barman was expelled from the party, it announced here on Friday. ....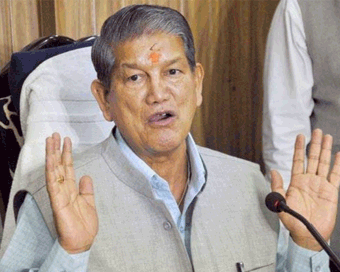 Uttarakhand To Drop 'political' Cases Against BJP Leaders
Political cases slapped on BJP leaders by the former Congress dispensation in Uttarakhand will be withdrawn by the new Trivendra Singh Rawat-led government, an official said on Saturday.....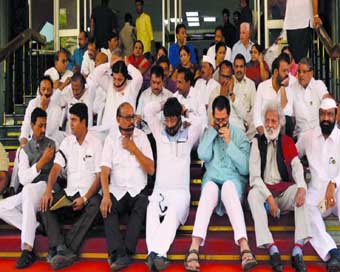 Farm Loans Waiver: Opposition To Launch Second 'Sangharsh Yatra'
After failing to get the ruling BJP-Shiv Sena government to announce a full waiver of farm loans, all major opposition parties in Maharashtra will take out a second 'Sangharsh Yatra' to press for the demand.....