Tag: Congress
Phone Tapping Of CM, Others Rampant In Kerala: Congress MLA
Congress legislator Anil Akkara on Monday said telephone tapping has become a normal affair in Kerala, with even Chief Minister Pinarayi Vijayan's telephone being tapped.....
Manipur CM Ibobi Singh Refuses To Quit, Says He Has Majority Support
In a fresh political twist in Manipur, Congress Chief Minister Okram Ibobi Singh has refused to heed Governor Najma Heptulla's directive to resign in order for a new ministry to be formed, saying he enjoys majority support in the assembly.....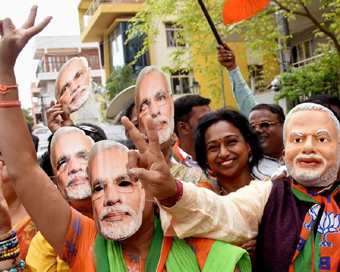 NPF Assures Support To New Manipur Government
Nagaland Chief Minister Shurhozelie Liezietsu on Tuesday brushed aside reports that his Naga People's Front (NPF) will not support the new non-Congress coalition government in Manipur.....
Delhi Congress Wants Civic Polls Through Ballots, Not EVMs
Amid allegations that EVMs were tampered with in the just-concluded assembly polls, the Delhi Congress has asked Chief Minister Arvind Kejriwal to conduct the upcoming civic polls through ballot papers. ....
BJP Used Money To Steal Goa, Manipur Mandates: Rahul Gandhi
Congress Vice President Rahul Gandhi on Tuesday accused the BJP of using money to "steal the mandate" in Manipur and Goa following the party's bid to form governments in both the states despite being the runner-up. ....
Congress, NCP, RJD Walkout Of Lok Sabha
The Congress on Tuesday staged a walkout from the Lok Sabha after it was not allowed to raise the issue of government formation in Goa and Manipur.....
Goa Governor Acted Unilaterally, Invited BJP To Form Government: Digvijaya Singh
The Congress party on Tuesday said that Goa Governor Mridula Sinha unilaterally invited the BJP to form the next government in the state, despite a letter by the Congress party to her seeking an invitation to form the government, AICC General Secretary Digvijaya Singh said on Tuesday.....
NC, Congress To Fight Lok Sabha By-elections Jointly
The National Conference and the Congress announced on Wednesday they will fight the by-elections to the Lok Sabha from Srinagar and Anantnag in Jammu and Kashmir as allies. ....
Rajya Sabha Repeatedly Disrupted Over Goa, Manipur
The Rajya Sabha on Wednesday witnessed multiple adjournments amid chaos over the Congress' allegations that the BJP "murdered democracy" by not honouring the people's mandate in Goa and Manipur assembly elections. ....
Raj Babbar Offers To Quit As UP Congress Chief
Congress Uttar Pradesh chief Raj Babbar on Wednesday offered to quit the post following the partys rout in assembly polls.....