Tag: Congress party
Congress Forms Alliance With Samajwadi Party For UP Polls
The Congress party on Tuesday said it will contest the Uttar Pradesh assembly polls in alliance with the Akhilesh Yadav-led Samajwadi Party.....
Congress Poll Manifesto For UP Promises 50% Quota For Women
The Congress party on Wednesday released its manifesto here for the Uttar Pradesh assembly polls and announced 50 per cent reservation for women.....
Shiv Sena Approaches Congress For Pact, Party Says 'not Interested'
A day after a hung House was thrown up following the BMC polls in Mumbai, the Shiv Sena, which bagged (84+3) of the 227 seats, on Friday approached the Congress party for a post-poll alliance, but the latter evinced no interest.....
RS Disrupted, Adjourned Briefly
The Rajya Sabha on Monday witnessed chaos, disruption and a brief adjournment with the Congress party alleging that the non-BJP chief ministers were being targeted by the Centre.....
Rahul Holds Meeting With Party Leaders On Future Polls
Congress Vice-President Rahul Gandhi on Tuesday held a strategy meeting with Congress leaders, MLAs and MPs to discuss measures to strenghten the party in states which will go for polls before the next general elections.....
Ram Nath Kovind Begins Campaign In Telugu States
The campaign for Presidential election began and NDA presidential candidate Ram Nath Kovind visited Telugu states of Telangana and Andhra Pradesh.....
NCP To Contest Gujarat Polls Solo
The Nationalist Congress Party (NCP), which was earlier in talks with the Congress to form an alliance to contest the upcoming Gujarat assembly elections, on Monday decided to contest alone for all the 182 constituencies in the state.....
Congress Has Given Quota Formula: Hardik
Patidar leader Hardik Patel on Wednesday announced that his Patidar Anamat Andolan Samiti (PAAS) was formally accepting the formula advanced by the Congress party to give job quotas to the community under the OBC category. ....
Rahul Asks Aiyar To Apologise For 'neech' Remarks Against PM
Congress Vice President Rahul Gandhi on Thursday asked senior party leader Mani Shankar Aiyar to apologise for his "neech" barb against Prime Minister Narendra Modi. ....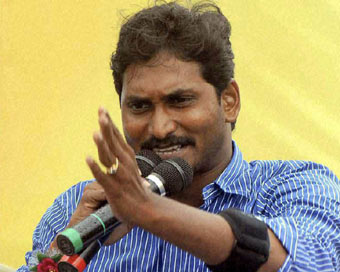 Jagan Injured In Knife Attack At Vizag Airport
YSR Congress Party President Y.S. Jaganmohan Reddy on Thursday sustained a minor injury at the Visakhapatam airport in a knife attack by a young man who sneaked up to him with a request to take a selfie, police said.....