Tag: Bihar
ED Summons Lalu's Son-in-law In Money Laundering Case
In connection with its ongoing probe into the 2006 IRCTC hotels maintenance contract case, the Enforcement Directorate has summoned RJD chief Lalu Prasad's son-in-law Rahul Yadav for questioning on Wednesday over a Rs 1 crore loan he had given to his mother-in-law Rabri Devi. ....
Lalu Prasad, Jagannath Mishra Get 5 Years Jail In Fodder Scam Case
A special CBI court on Wednesday sentenced former Bihar Chief Ministers Lalu Prasad and Jagannath Mishra to five years in prison in a fodder scam case and slapped a fine of Rs 10 lakh on the former and Rs 5 lakh on the latter.....
HAM-S Quits NDA To Join Grand Alliance In Bihar
The Hindustani Awam Morcha-Secular (HAM-S) on Wednesday announced its exit from the National Democratic Alliance (NDA) with the BJP and said it would enter the Grand Alliance, a party leader said.....
Fodder Scam Case: CBI Court Convicts Lalu, Acquits Mishra
A special CBI court here on Monday convicted RJD leader and former Bihar Chief Minister Lalu Prasad in the fourth fodder scam case but acquitted former Chief Minister Jagannath Mishra.....
Congress Always Ready To Do Politics In Ambedkar's Name: Modi
Amid Dalit unrest in the country, Prime Minister Narendra Modi on Wednesday took a dig at the Congress for always doing politics in the name of Dalit icon B.R. Ambedkar but ignoring his contributions.....
RJD, Congress To Stake Claim To Power In Bihar, Goa
The Congress in Goa and the RJD in Bihar on Thursday said they would ask the Governors of their respective states to give them a chance to form governments the same way that BJP leader B.S. Yeddyurappa was given in Karnataka as leader of the single-largest party.....
Five Accused In Bodh Gaya Blasts Case Convicted
A Bihar court on Friday convicted all the five accused in the 2013 serial blasts that rocked Bodh Gaya's Mahabodhi temple.....
Former Prime Minister Atal Bihari Vajpayee Admitted To AIIMS, Condition Stable
Former Prime Minister Atal Bihari Vajpayee was admitted to the All India Institute of Medical Sciences (AIIMS) on Monday for "examination and management" triggering VIP visits including that of Prime Minister Narendra Modi, BJP President Amit Shah and Congress President Rahul Gandhi.....
Vajpayee Responding To Treatment At AIIMS
Former Prime Minister Atal Bihari Vajpayee, undergoing treatment for urinary tract infection at the AIIMS here, is responding well and his vital parameters are stable, hospital officials said on Tuesday.....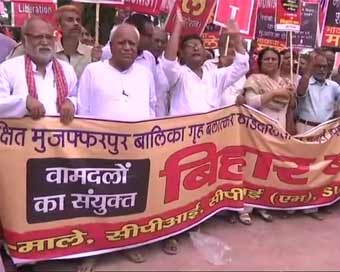 Shutdown Against Bihar Shelter Home Rape Hit Rail, Road Traffic
A shutdown called by the Left parties in Bihar on Thursday against the rape of 34 minor girls at a shelter home in Muzaffarpur district has hit rail and road traffic, police said.....