Tag: Bihar
Bihar Crime: From Myth To Reality
It was the month of March in the Y2K (Year 2000) when the then first time Chief Minister of Bihar Nitish Kumar paved the way for Rabri Devi to form government after he left the Assembly just before the floor test for confidence motion.....
Rs 10000 Cr Will Be Given To 20 Universities To Make Them World-class: Modi
Prime Minister Narendra Modi on Saturday said it was a "blot" that Indian universities do not figure among the top 500 of the world and noted that the government has decided to give autonomy and Rs 10,000 crore to top 10 public and 10 private universities over the next five years to make them world-class.....
JD-U Demands Probe Into Ahmed Patel's Alleged Links With Terrorists
The Janata Dal-United faction led by Bihar Chief Minister Nitish Kumar on Saturday demanded a "free and fair probe" into allegations that Congress leader Ahmed Patel had links with two arrested terrorists in Gujarat.....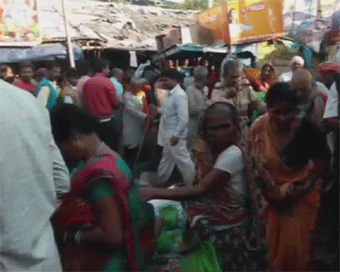 3 Killed In Stampede In Bihar's Begusarai
Three pilgrims died and over a dozen others were injured on Saturday in a stampede on the banks of the Ganga river in Bihar's Begusarai district, an official said.....
GST Council Cuts Tax Slab For 178 Items From 28% To 18%
The GST rate on 50 items of mass consumption, that were in the 28 per cent tax slab, rest items has been slashed to 18 per cent, Bihar Deputy Chief Minister Sushil Kumar Modi, who heads the panel of Group of Ministers for tackling IT-related glitches, said on Friday.....
Lalu Demands Rollback Of Note Ban, GST
RJD chief Lalu Prasad on Sunday demanded an immediate rollback of demonetisation and GST "for the sake of the people".....
Poll Symbol: HC Seeks JD-U MP, EC's Response To Sharad Yadav Faction's Plea
The Delhi High Court on Thursday issued a notice to Janata Dal-United (JD-U) leader Ramachandra Prasad Singh and the Election Commission (EC) on a plea filed by the Sharad Yadav faction of the party, challenging the poll panel's order of granting the party's "Arrow" symbol to the faction led by Bihar Chief Minister Nitish Kumar.....
Three Killed In UP Highway Accident
Three persons were killed in the early hours of Friday when a speeding car rammed into a truck from the rear on the Lucknow-Delhi highway in Uttar Pradesh's Bareilly, police said. ....
Train Catches Fire In Bihar, 4 Coaches Gutted
Four coaches of a passenger train were gutted in a fire in Bihar's Mokama railway yard on Wednesday, an official said. No one was injured in the incident.....
Bihar Police Looking For 6 Men On Rape Charges
Three women disciples from an ashram in Bihar's Nawada district have accused six men from the institution of raping them at gun-point over several days, police said on Friday. ....