Tag: BJP national
Manohar Parrikar Takes Over As Goa CM For Fourth Time
BJP leader Manohar Parrikar was sworn in Chief Minister of Goa for the fourth time on Tuesday.....
BJP Wants Modi To Head Next Government Too - In 2019
Hailing the NDA government for its pro-poor policies, the BJP on Sunday urged people to help Prime Minister Narendra Modi form the next government too - in 2019.....
Congress-mukt Northeast After Mizoram Polls: Amit Shah
Guwahati, May 20 (IANS) BJP national President Amit Shah on Sunday said the northeast will be 'Congress-mukt' (Congress free) after the Mizoram election, scheduled for the year-end.....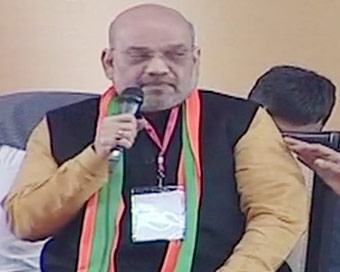 BJP Lost 3 State Elections But We Are Not Defeated: Shah
BJP President Amit Shah on Saturday said although the party lost in the Madhya Pradesh, Rajasthan and Chhattisgarh Assembly polls, it has not been defeated yet.....
No Role Of Centre In TN Developments, Says BJP
The BJP on Thursday maintained the political developments in Tamil Nadu with E. Palaniswami taking over as new Chief Minister was the "AIADMK's internal matter and the Centre had no role in it", while the Congress party said the southern state needs a stable government.....
Two-day BJP National Executive Meet Begins In Bhubaneswar
A two-day BJP National Executive meeting began in Bhubneswar on Saturday with the lighting of the ceremonial lamp by Prime Minister Narendra Modi and party President Amit Shah.....
Modi Misusing Power To Campaign For BJP: Lalu
RJD chief Lalu Prasad on Sunday targeted Prime Minister Narendra Modi for misusing his official power to campaign for the Bharatiya Janata Party.....
Everything Is Fair In Love And War: Ram Madhav On Kashmir Situation
The idea of using a Kashmiri man as a human shield against angry stonepelters in Kashmir by a young army officer was the right thing as everything is fair in love and war, BJP National General Secretary Ram Madhav said on Thursday.....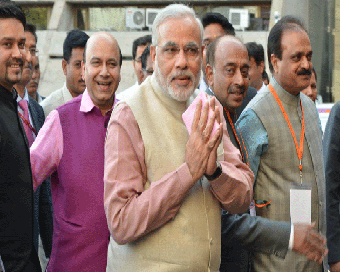 BJP National Executive Meet In Delhi From Friday
A two-day meeting of the BJP National Executive will begin here on Friday, nearly a month ahead of the start of assembly elections in five states. ....
BJP Leader Backs Adityanath's 'UP To Become Another Kashmir' Remark
A day after BJP leader Yogi Adityanath raked up the issue of alleged exodus of members of a particular community from western Uttar Pradesh,BJP state unit chief Keshav Prasad Maurya on Tuesday supported his claim. ....
Samay
Tweets by @sahara_samay