Tag: BJP President Amit Shah
Odisha Will Be Centre's Lab For Pro-poor Policies: Pradhan
Ahead of the BJP National Executive meeting, Petroleum Minister Dharmendra Pradhan on Friday said Odisha will be a laboratory for testing of the BJP-led central government's pro-poor policies. ....
Delhi MCDs Have Become Den Of Corruption: AAP Leader
Aam Aadmi Party leader Dilip Pandey in a letter to BJP President Amit Shah on Monday said that the BJP-ruled municipal corporations in the city have become a den of corruption.....
Video:Study Nanaji Deshmukh's Life To Understand BJP Ideology: Amit Shah
BJP President Amit Shah on Sunday said that those who want to learn about the party's ideology and evolution must study the life and works of Nanaji Deskmukh.....
Amit Shah Is A 'Chanakya', Says Yogi Adityanath
Uttar Pradesh chief minister Yogi Adityanath on Sunday termed BJP president Amit Shah as Chanakya, who is hailed worldwide for his aggressive election strategy. ....
Rs 5 Lakh Cover For 10 Cr Poor Families Announced Under Ayushman Bharat
Terming it as the world's largest government funded healthcare programme, Finance Minister Arun Jaitley on Thursday announced the National Health Protection Scheme under which Rs 5 lakh cover will be provided a year to 10 crore poor and vulnerable families in the country. ....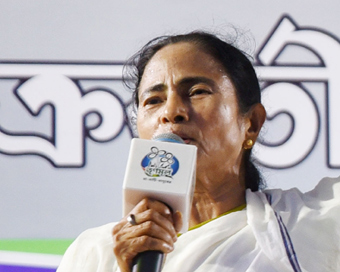 Mamata Condemns Attacks On Vidyasagar College, CU Students
Condemning alleged attacks on students of the Vidyasagar College and University of Calcutta after BJP President Amit Shah's roadshow here, West Bengal Chief Minister Mamata Banerjee on Tuesday said she has never seen such political violence in Kolkata.....