Tag: BJP President Amit Shah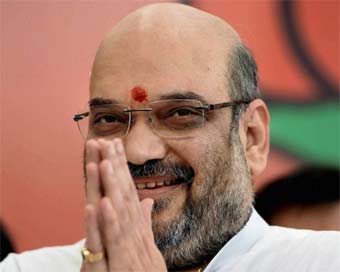 BJP Extends Amit Shah's Tenure
The Bharatiya Janata Party (BJP) on Saturday decided to defer its organisational elections to pave the way for Amit Shah to continue as President until the 2019 Lok Sabha polls. ....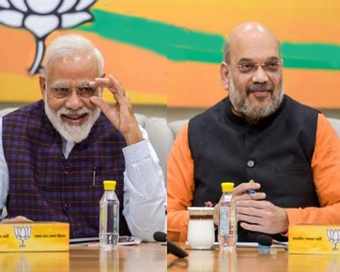 Modi Stays With Varanasi, Shah's LS Bid From Gandhinagar
Prime Minister Narendra Modi will fight again from his Varanasi constituency while BJP President Amit Shah will make his debut in Lok Sabha polls from Gandhinagar, BJP leader J.P. Nadda announced on Thursday.....
BJP President Amit Shah Prays At Patna Sahib
BJP president Amit Shah on Tuesday prayed at the Takht Sri Harmandir Sahib, the birthplace of the 10th Sikh Guru, Gobind Singh.....
BJP Will Form 'majority' Government In UP : BJP President
BJP President Amit Shah on Saturday said that all-round development will be ushered in Uttar Pradesh after March 11, as his party will form the government with a full majority.....
AAP Approaches Rights Panel Over BJP's 'atrocities' On Farmers, Tribals
The AAP on Thursday accused the BJP governments in Gujarat and Chhattisgarh of "committing atrocities" on farmers and tribals on the orders of party chief Amit Shah, and approached the NHRC over the matter.....
UP Fell Back In Development During 'bua, Bhatija' Rule: Amit Shah
BJP President Amit Shah on Monday took a dig at Chief Minister Akhilesh Yadav and Bahujan Samaj Party chief Mayawati, saying that Uttar Pradesh kept falling back in development indicators during the rule of the two leaders -- whom he referred to mockingly as "bua and bhatija".....
BSP Will Take Power In UP: Mayawati
The BSP will form the next government in Uttar Pradesh, leaving the BJP and the SP-Congress alliance at the second and third places, BSP chief Mayawati said on Monday.....
'PM Go Back' Posters Come Up In Gandhinagar Ahead Of Modi Visit
"PM Go Back" posters came up outside the BJP headquarters on the outskirts of Gandhinagar on Tuesday, ahead of Prime Minister Narendra Modi's two-day visit to Gujarat. ....
BJP Credits Modi For UP Victory
The BJP is set to take power in Uttar Pradesh and the credit for this goes to Prime Minister Narendra Modi, party spokesperson Sambit Patra said on Saturday.....
New Uttarakhand CM: An RSS Activist Once Named In A Scam
New Uttarakhand Chief Minister Trivendra Singh Rawat, a long-time RSS loyalist, once named in a multi-crore rupee agricultural scam, is known for his administrative and organisational skills -- a trait that may have given him an edge over other BJP heavyweights to be chosen for the top post in the hill state. ....