Tag: Ashok Gehlot
ED Attaches Rs 11.57 Cr Worth Assets In Ambulances Case
The Enforcement Directorate on Monday said it has attached assets worth Rs 11.57 crore in connection with a 2015 case relating to the ambulance service scheme scam in Rajasthan.....
Rahul Lone Candidate For Congress Chief's Post
Marking a generational shift, Rahul Gandhi is all set to take over as Congress President next week as he was the only candidate to file nominations before deadline expired on Monday for the post amid opposition jibes over dynasty politics in a contest with no one else in the fray.....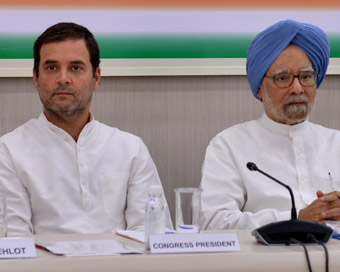 Congress Attacks Modi Government, To Launch Decisive Battle On Corruption
The Congress on Saturday stepped up its attack on the Modi government on the issue of corruption and took ownership of the National Register of Citizens while accusing BJP of using it as "divisive tool" as it decided to launch a "decisive battle" along with opposition parties against the BJP.....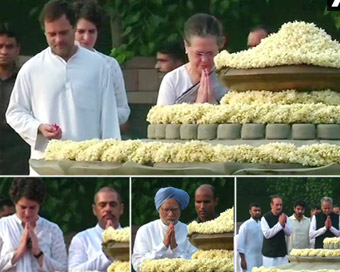 Rajiv Gandhi Remembered On His 74th Birth Anniversary
Congress President Rahul Gandhi along with his mother and UPA chairperson Sonia Gandhi paid homage to his father and former Prime Minister Rajiv Gandhi on his 74th birth anniversary on Monday.....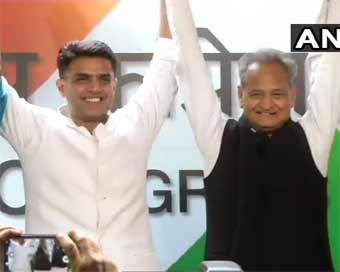 Gehlot CM Picked In Rajasthan, Pilot To Be His Deputy
Veteran Congress leader Ashok Gehlot was on Friday picked as Congress choice for Chief Minister of Rajasthan and his rival in the race Sachin Pilot could be the Deputy Chief Minister.....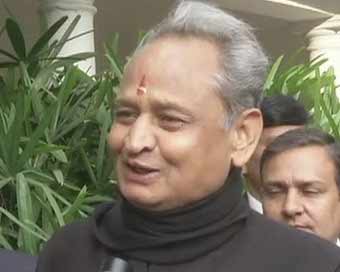 Ashok Gehlot Sworn In As Rajasthan CM, Pilot Deputy CM
Congress leader Gehlot was sworn in on Monday as the 12th Chief Minister of Rajasthan, while the party's state president Sachin Pilot took oath as his deputy at a ceremony here. ....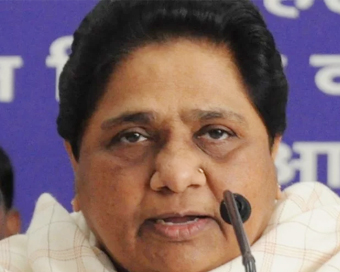 Mayawati Slams Priyanka For Ignoring Kota Hospital Tragedy
While Congress General Secetary Priyanka Gandhi Vadra is taking to task the Yogi Aditynath government in Uttar Pradesh on the plight of a toddler in Varanasi separated from her parents, BSP supremo Mayawati on Thursday slammed the Congress leader for not paying heed to the Kota hospital tragedy in the Congress-ruled Rajasthan.....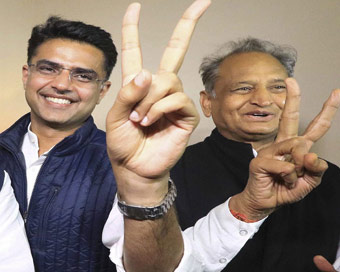 Suspense Continues Over Rajasthan Chief Minister
Who will be Rajasthan's new Congress Chief Minister? The question remained unanswered on Wednesday as the first round of meeting of newly elected MLAs failed to decide on a leader.....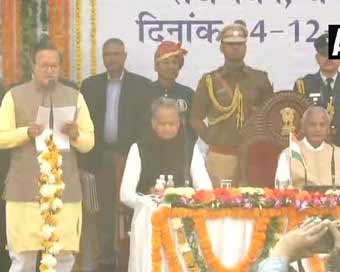 23 Rajasthan Ministers Take Oath
Twenty-three ministers took oath in Rajasthan on Monday. They included 13 cabinet ministers and 10 ministers of state.....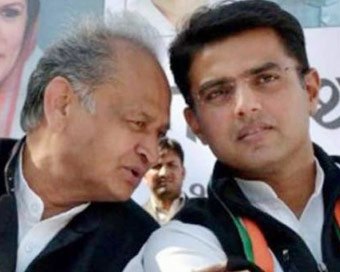 Rajasthan Cabinet Portfolios Allocated, Gehlot Keeps Home, Finance
Rajasthan Governor Kalyan Singh on early Thursday allocated portfolios to the Council of Ministers, three days after 23 ministers took oath, with Chief Minister Ashok Gehlot keeping key departments including Home, Finance and Personnel.....