Tag: Arunachal Pradesh
Mild Earthquake Jolts Meghalaya
A mild earthquake, measuring 4.5 on the Richter scale, rocked Meghalaya and its neighbouring states on Sunday, an official said.....
Ex-Arunachal CM Kalikho Pul's Wife Demands Probe Into His Suicide
Late Arunachal Pradesh Chief Minister Kalikho Pul's wife on Friday demanded a Central Bureau of Investigation (CBI) probe to find the actual reasons behind her husband's suicide.....
Modi Greets People Of Arunachal, Mizoram On Statehood Day
Prime Minister Narendra Modi on Monday greeted the people of Arunachal Pradesh and Mizoram on their statehood day.....
Shurhozeilie To Take Oath As Nagaland CM On Wednesday
Nagaland Chief Minister designate Shurhozeilie Leizietsu on Monday met Governor P.B. Acharya here to stake claim to form a new government. He will take oath on Wednesday.....
China Furious Over Dalai Lama's Arunachal Visit, India Says Nothing Political
China on Wednesday reacted angrily to the Dalai Lama's visit to Arunachal Pradesh and said that by ignoring Beijing's concerns over the issue New Delhi has caused "serious damage" to bilateral ties. India reiterated that no political colour should be attributed to the Tibetan spiritual leader's visit to the northeastern state.....
Seven Killed In IAF Chopper Crash In Arunachal
Seven defence personnel were killed after an Mi-17 V5 helicopter of the Indian Air Force crashed in Arunachal Pradesh on Friday.....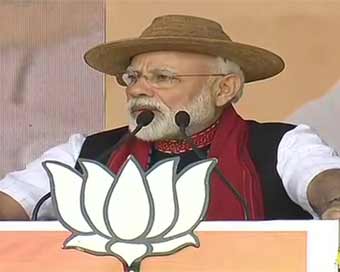 Congress Never Cared For Arunachal: PM Modi
Prime Minister Narendra Modi on Wednesday told a large rally of supporters gathered here that Congress, who ruled for the better part of the seven decades since Independence, never bothered about the Northeast and hence the state lacked connectivity and development.....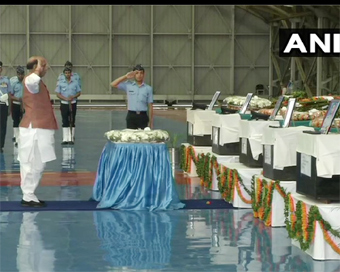 Defence Minister Pays Tribute To IAF Personnel Killed In AN-32 Crash
Defence Minister Rajnath Singh on Friday paid tributes to five of the 13 air-warriors, who lost their lives in the AN-32 crash in Arunachal Pradesh on June 3.....
Amulya Kumar Patnaik Is New Delhi Police Chief
Amulya Kumar Patnaik, currently a Special Commissioner, has been appointed the Delhi Police Commissioner, the Home Ministry announced on Monday.....
Moderate Earthquake In Manipur
An earthquake measuring 5.2 on the Richter scale rocked Manipur on Friday, an IMD official said. There were no reports of any casualty or damage so far.....