Tag: Anantnag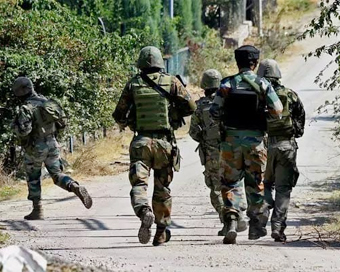 Soldier Martyred, 2 Militants Killed In J&K Gunfight
An Indian Army soldier and two militants were killed on Tuesday in a gunfight in Jammu and Kashmir's Anantnag district, police sources said.....
Sayeed Files Nomination For Anantnag Lok Sabha Seat
Tasaduq Hussain Sayeed of Jammu and Kashmir's ruling Peoples Democratic Party (PDP) on Wednesday filed his nomination papers for the Anantnag Lok Sabha by-election.....
Hizbul Module Tasked To Disrupt Polls In South Kashmir Busted
A Hizbul Mujahideen module aiming to disrupt the forthcoming bypoll to the Jammu and Kashmir's Anantnag parliamentary constituency was busted with seven militants arrested from Kulgam district on Monday, police said.....
Clashes Erupt In Anantnag
Groups of youths stoned security personnel on Monday in Jammu and Kashmir's Anantnag town, two days ahead of a Lok Sabha by-election in the region, officials said.....
Dialogue With Pakistan Only Way To End Bloodshed: J&K CM
On the second death anniversary of her father and former Chief Minister Mufti Muhammad Sayeed, Jammu & Kashmir Chief Minister Mehbooba Mufti on Sunday made a passionate appeal to India and Pakistan to resume parleys to end the ongoing bloodshed in Kashmir.....
Avalanche Warning In Seven Kashmir Districts
The Jammu and Kashmir administration on Wednesday issued avalanche warning in seven districts of the Valley, an official said....