Tag: Amarinder Singh
'Amarinder Emerged As A Model For A Dispassionate Biography'
Unlike a politician or a royal, both of which he is, Punjab Chief Minister Amarinder Singh does not hold back on sharing information about himself. ....
New Punjab Assembly's First Session Begins
The first session of the newly-elected 15th Vidhan Sabha (legislative assembly) of Punjab began here on Friday.....
Rain, Winds Damage Wheat Crop In Punjab, Haryana
Heavy rain, hailstorm and strong winds have damaged nearly-ready-to-harvest wheat crop in Punjab and Haryana, officials said on Thursday....
Punjab Sets Up Expert Group On Debt Waiver For Farmers
The Punjab government on Saturday announced the setting up of an Expert Group to assess the quantum of agricultural debt and suggests ways and means for its waiver.....
Amarinder Vs Sajjan: Politics Of A Captain And A Colonel
One is Canada's Defence Minister and the other is the Chief Minister of a state (Punjab) that has strong connections with the North American country. ....
Amarinder Meets Modi, Seeks Nod To Sell Power To Pakistan, Nepal
Punjab Chief Minister Amarinder Singh on Thursday sought Prime Minister Narendra Modi's intervention to allow the Punjab government to sell surplus power to Pakistan or Nepal in the financial interest of the cash-strapped state.....
Khattar Asks Congress To Rein In Amarinder On SYL Issue
Haryana Chief Minister Manohar Lal Khattar on Monday accused the opposition of political gimmicks and said the Congress should prevent Punjab Chief Minister Amarinder Singh from stopping water flow to Haryana through the SYL Canal.....
Punjab Sets Up ATS To Break Terrorism-gangster Nexus
Punjab Chief Minister Amarinder Singh has given the go-ahead for setting up an Anti-Terror Squad (ATS) to break the nexus flourishing between militants and gangsters in the state's prisons, an official said on Monday.....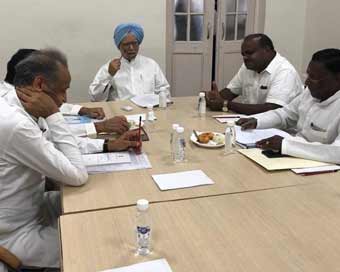 Manmohan Singh Meets Congress Chief Ministers
Former Prime Minister Manmohan Singh on Saturday held a meeting with Congress Chief Ministers to discuss the issues to be taken up by them at the meeting of the governing council of Niti Aayog later in the day.....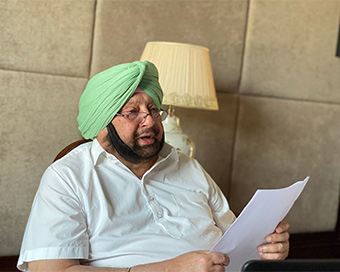 Coronavirus: Punjab Extends Curfew Till May 1
After Orissa, the Punjab Cabinet led by Amarinder Singh on Friday decided to extend curfew in the state by 21 days till May 1. ....
Samay
Tweets by @sahara_samay