Tag: Allahabad
If BJP Wins UP, Will Consult Muslim Women On Triple Talaq: Shah
BJP President Amit Shah on Saturday raked up the 'triple talaq' issue ahead of the Uttar Pradesh assembly elections and said if the party wins, it will seek the opinion of the state's Muslim women and approach the Supreme Court accordingly.....
Allahabad HC Issues Notice To Mayawati, Brother
In a major setback to Bahujan Samaj Party (BSP) supremo Mayawati in the midst of the crucial assembly polls, the Allahabad High Court on Wednesday issued notice to her with regard to a land purchase in 2006. ....
SC Junks Plea Against UP Government's Pension Scheme
The Supreme Court on Monday junked a plea challenging the Akhilesh Yadav government's 'Samajwadi' pension scheme for the poor in Uttar Pradesh.....
Babri Case Is About Title: Owaisi
Virtually ruling out an out-of-court settlement of the Ayodhya dispute as suggested by the Supreme Court on Tuesday, MP Asaduddin Owaisi said the case was about title.....
SC Defers Hearing In Babri Masjid Conspiracy Case
The Supreme Court on Thursday deferred hearing on a CBI plea seeking restoration of criminal conspiracy charge against senior BJP leaders in the 1992 Babri Masjid demolition case, asking the parties to file written submission focusing on issues to be adjudicated.....
SC Decision On CBI Plea In Babri Masjid Conspiracy Case On Wednesday
The Supreme Court is likely to pronounce its verdict on Wednesday on the CBI's plea seeking revival of the criminal conspiracy charge against eight senior BJP and VHP leaders including L.K. Advani and Murli Manohar Joshi in the 1992 Babri Masjid demolition case.....
Allahabad HC Acquits Talwars In Aarushi Murder Case
The Allahabad High Court on Thursday acquitted dentist couple Rajesh and Nupur Talwar in the 2008 murder of their teenage daughter Aarushi.....
Allahabad HC Refuses Plea Against UP CM In 2007 Riot Case
In a big relief to Yogi Adityanath, the Allahabad High Court on Thursday refused to admit a plea for a CBI probe to prosecute the Uttar Pradesh Chief Minister in a 2007 riot case that had left one person dead.....
Ambedkar Statue Vandalised In Allahabad
A statue of Dalit icon Bhimrao Ramji Ambedkar was vandalised in Allahabad on Saturday, police said.....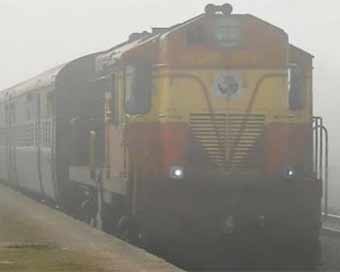 20 Trains Cancelled For 2 Months In Uttar Pradesh
The North-Eastern Railways (NER) has cancelled 20 trains, including eight trains plying in Uttar Pradesh's Gorakhpur and Basti divisions, due to fog and inclement weather, an official said on Thursday.....