Tag: Akali Dal
Punjab Polls: Will 'Rahu Kaal' End For Congress?
Although two opinion polls have given different findings about which party will be the winner in Punjab, conventional wisdom is that the ruling Akali Dal-Bharatiya Janata Party (BJP) combine will have a hard time overcoming the anti-incumbency factor. ....
Punjab Polls: No Cake-walk For Badals This Time
With the Punjab assembly polls turning into a three-horse race for the first time, Chief Minister Parkash Singh Badal and his son and deputy, Sukhbir Singh Badal, face the most serious electoral challenge of their careers.....
Punjab Contest No Longer Bipolar, But BJP Clear Winner: Jaitley
Union Finance Minister Arun Jaitley on Sunday said though the contest in the February 4 Punjab assembly elections was no longer bipolar with the "advent of new smaller parties", the BJP will nevertheless emerge clear winner.....
Rahul Slams Modi For Aligning With 'corrupt' SAD, Names Amarinder As CM Face
Congress Vice President Rahul Gandhi on Friday slammed Prime Minister Narendra Modi for claiming to fight corruption, while aligning with the "corrupt" Shiromani Akali Dal regime in Punjab.....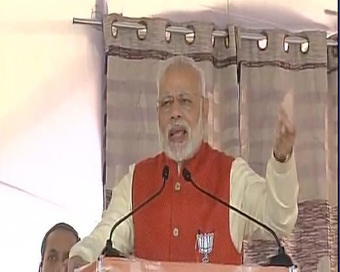 Congress A Sinking Ship, Is History, Says Modi
Dubbing the Congress as a "sinking ship" and "history", Prime Minister Narendra Modi on Friday called upon voters not to vote for the opposition party in the coming assembly elections in five states.....
Modi Invokes Pakistan Threat To Seek Votes For Akali-BJP Alliance
Prime Minister Narendra Modi on Sunday invoked threats from Pakistan to urge people to vote for the Akali Dal-BJP alliance in Punjab to provide a strong government in the border state. ....
Punjab Campaigning Ends; Voting On February 4
A high-voltage and somewhat no-holds-barred campaign for the February 4 Punjab assembly elections ended on Thursday evening as leaders and workers of major political parties made last-ditch efforts to woo voters in the state.....
Punjab Records 66 Per Cent Turnout, Voting Remains Peaceful
Over 66 per cent of Punjab's electorate had exercised their franchise till 5 p.m. on Saturday as polling for the state assembly officially ended, election officials said. Voting remained peaceful, barring stray incidents of minor clashes and arguments. ....
Malfunctioning Voting Machines A Mischief, Asks Kejriwal
Delhi Chief Minister Arvind Kejriwal on Sunday attacked the poll panel over malfunctioning of Electronic Voting Machines (EVMs) in Punjab, wondering if it was a "mischief".....
Amarinder Elected As CLP Leader; Swearing-in On March 16
The Congress, which swept the Punjab assembly elections, on Sunday formally elected Amarinder Singh as the head of the Congress Legislature Party (CLP). Amarinder later met Punjab Governor V.P. Singh Badnore and stalked claim to form the next government in the state. ....