Tag: who
India's Wholesale Price Inflation Marginally Up In December
Even as vegetable prices plummeted 33 per cent, India's annual inflation based on wholesale prices rose marginally to 3.39 percent in December 2016 from 3.15 per cent for the month before, due to hardening of manufactured products and fuel prices.....
Rahul Pledges To Fight Those Who Seek To 'destroy'
Congress Vice President Rahul Gandhi on Monday paid tribute to Father of the Nation Mahatma Gandhi on his 69th death anniversary and pledged to fight against those who seek to "destroy".....
Who's Polluting Young Girl's Mind: Rijiju On DU Student
Minister of State for Home Kiren Rijiju on Monday wondered who was "polluting" the mind of a Delhi University student campaigning on social media against the ABVP. ....
Ousted S. Korean President Apologises, Vows To Clarify Truth
Former President Park Geun-hye apologised to the nation after she left the presidential complex on Sunday, two days after the Constitutional Court upheld her impeachment. ....
Rajya Sabha Passes Maternity Benefit Bill 2016
The Rajya Sabha on Monday approved the Maternity Benefit (Amendment) Bill 2016.....
Lok Sabha Unites To Condemn Pakistan For Death Sentence On Jadhav
The Lok Sabha on Tuesday unanimously condemned Pakistan's decision to award death sentence to Indian national Kulbhushan Jadhav and urged the government to take every step to save his life.....
Pakistan Again Rejects Access To Jadhav, Says India Failed To Respond To Query
Pakistan on Friday rejected India's 14th attempt for consular access to alleged spy Kulbhushan Jadhav and maintained the trial sentencing him to death was according to the laws of the country.....
OMG! 'Jagga Jasoos' Actress Bidisha Bezbaruah Found Dead
Just five days after Ranbir Kapoor, Katrina Kaif's 'Jagga Jasoos' hit theatres, their co-star from the film Bidisha Bezbaruah was found dead at her residence in Gurugram.....
President Kovind Takes Charge, Pledges To Protect The Constitution
President Ram Nath Kovind, who takes charge as the 14th President of India, said the journey has been a long one and he pledged to protect the Constitution and said that the key to India's success is 'unity in diversity'. ....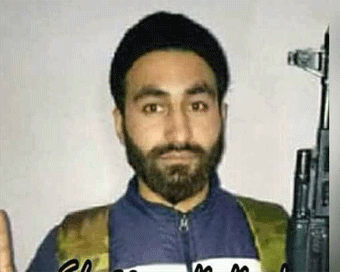 Police Hunt For Ph.D Student Who Joined Hizbul
Police in Jammu and Kashmir said on Monday they were looking for a Ph.D student who has reportedly joined the Hizbul Mujahideen militant group.....