Tag: water
Mulayam's Daughter-in-law Opposes Quota, BJP Seeks Action
Samajwadi Party mentor Mulayam Singh Yadav's younger daughter-in-law Aparna Yadav has courted controversy by reportedly saying she is opposed to caste-based reservation, with the opposition BJP jumping at the opportunity to corner the ruling party.....
INLD Will Dig SYL Canal; Call Army If You Want To: Chautala
Upping the ante on its proposed move to start digging the Sutlej-Yamuna Link (SYL) canal on the Punjab-Haryana border on February 23, Haryana's main opposition party INLD on Monday said that it will go ahead with its threat even if the authorities call the Army to stop them.....
My Dream Is To Develop 'Poorvanchal': Modi
Prime Minister Narendra Modi on Sunday said development of Poorvanchal (eastern Uttar Pradesh) has been his "dream", and hit out at successive state governments for not doing anything to develop the region.....
Bangladesh PM Arrives, Modi Welcomes Her
Bangladesh Prime Minister Sheikh Hasina arrived here on Friday on a four-day visit, and was received by Prime Minister Narendra Modi at the airport.....
Yogi Adityanath, Uma Bharti Vow To Make Ganga Clean
Uttar Pradesh Chief Minister Yogi Adityanath on Monday met Union Water Resources, River Development and Ganga Conservation Minister Uma Bharti and assured her of all support and cooperation from the state government in cleaning up the Ganga.....
Pakistan-India Indus Water Talks Delayed
The secretary-level talks between Pakistan and India on the Indus Water Treaty in Washington have been delayed, a media report said on Thursday.....
Jain Settled A Rs 50 Cr Land Deal For Kejriwal's Brother-in-law: Mishra
Sacked Delhi Minister Kapil Mishra on Monday claimed he was told by Health Minister Satyendar Jain that he was "settling a Rs 50 crore land deal" for Delhi Chief Minister Arvind Kejriwal's brother-in-law in Chhattarpur area.....
EVM Motherboards Can Be Changed In 90 Seconds: Kejriwal
Delhi Chief Minister Arvind Kejriwal on Tuesday dared the Election Commission to give EVMs to the AAP which he said will change their motherboards in 90 seconds.....
Rain Lashes Delhi-NCR
Mercury dropped perceptibly in Delhi and National Capital Region (NCR) after heavy rainfall on Thursday. ....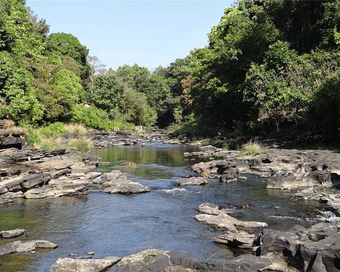 Shutdown Call In Karnataka For Mahadayi Water On Thursday
A call for 12-hour shutdown on Thursday in Karnataka has been given by several Kannada organisations and regional outfits for the Mahadayi river water from the neighbouring Goa state in the northwest.....