Tag: girl
Will Juvenile Justice Act Be Amended, Again?
December or January is that time of the year when the police of every State has to meet the press to put across its achievements and its crime control records for public scrutiny.....
Four-month-old Girl Found Abandoned In Delhi
A four-month-old baby girl was found abandoned near a temple in a forested area here on Saturday, police said. ....
Who's Polluting Young Girl's Mind: Rijiju On DU Student
Minister of State for Home Kiren Rijiju on Monday wondered who was "polluting" the mind of a Delhi University student campaigning on social media against the ABVP. ....
Three Militants, Minor Girl Killed In Kupwara Gunfight
Three foreign militants and a six-year-old girl were killed in a gunfight between holed-up militants and security forces in north Kashmir's Kupwara district on Wednesday. ....
Ex-JD-U Legislator Arrested Over Minor Girl's Murder
Former JD-U legislator Suryadeo Singh has been arrested over a minor girl's death when he opened fire in Bihar's Rohtas district, police said on Monday.....
Nadda Seeks Report From Fortis After Girl's Death
Calling the death of a seven-year-old girl at Gurugram's Fortis Hospital unfortunate, Health Minister J.P. Nadda on Tuesday said the government had sought a detailed report from the hospital.....
Thanks For Showering Me With Love: Manushi On India Welcome
India's Manushi Chhillar, who made the country proud by winning the Miss World 2017 and landed Mumbai to a warm welcome, thanked fans for showering her with love.....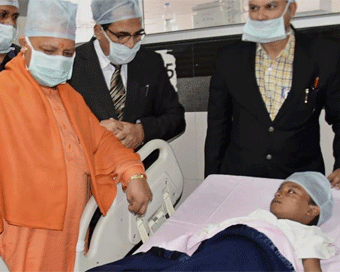 Girl Detained For Stabbing Class 1 Boy In Lucknow, Principal Arrested
A girl student suspected of stabbing a Class 1 boy in a school in the state capital has been detained while the school principal has been arrested, police said on Thursday.....
Apple Joins Malala Fund To Empower Girls In India, World
Aiming to empower girl education in India and other countries, Apple on Monday announced support for the Malala Fund -- led by Nobel Peace Prize Laureate Malala Yousafzai -- which is focused on advocating every girl's right to 12 years of free, safe and quality education.....
8-year-old Raped, Killed In UP
Lucknow : In a case evoking the barbaric crime in Jammu and Kashmir's Kathua, an 8-year-old was raped and then murdered in Etah district of Uttar Pradesh on Tuesday, police said.....